Welcome to change of tires at Statkraft May 9th!


In order to be able to help as many people as possible, we have set up a day only for tire changes on your bicycle! Statkraft provides you with the service ❤️
Deliver your bike at 1 U29 in the garage (on the way down from u1 to u2) at Lilleakerveien 6a – follow the signs! Please deliver your bikes before we arrive at 8 o'clock, so we can service as many as possible! You can bring your own summer tyres or buy tires from us – make a note about it in the message field.
The bike must be unlocked for us to carry out the tire change.
The bicycle must also be relatively clean and in a condition suitable for cycling.
If you have a bicycle lock around the seat post, it must be removed.
You'll find labels where you deliver your bike – write your name and phone number and attach the label with tape to the handlebars of the bicycle.

You'll receive an SMS when your bike is ready. You can then pick it up in the bicycle room at u1. Remember that this is an offer that applies to you who use the bike to and from work – only one bike per person!
It is first come, first served 🙂
Register on the form below – then we can meet prepared and give your bike a heavenly treatment ❤️
NB: We cannot handle larger cargo bikes and heavy longtails!
Prices of tires and tubes:
Tube: from kr 90,- pr tube (depending on type)
Summer tyre: from kr 300,- to 800,- per tyre (depending on size and type)
You can pay with Vipps when you recieve an SMS from us that the bike is ready: Vipps to 104217.
All prices includes VAT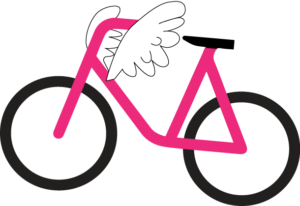 Like us on Facebook!